Silverback 60″ In-Ground Basketball Hoop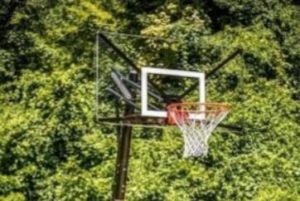 Silverback is a 60-inch in-ground adjustable basketball with adjustable height made of tempered glass backboard with a cool Style Breakaway Rim.
It has a very smartly designed arena-style performance which makes it one of the most preferred basketball hoops. For folks who love gymnasium-style goal scores, this is an ideal basketball hoop with premier in-ground goals. It has an anchor mount that offers the power of concrete and allows you to easily unbolt and move the goal.
When it comes to flexes and pressure issues, this basketball hoop is designed with a tempered glass backboard with a pro-style breakaway rim which easily flexes to accommodate and withstand pressure. While ensuring cool usage, this feature equally safeguard the hoop from potential snapping and breakage and increases its durability.
Its steel pole is coated with powder. The steel pole adjusts suitably from 7.5 inches up to 10 inches. It has a steel actuator.
Features
Steel pole coated with powder to ensure strength
Adjustment up to 10 inches
Has a tempered glass backboard pads
Has a crank actuator making it easy to adjust the from NBA to NCAA
It has a concrete anchor system
Goal dimensions: 147inches
5/16 inch thick glass
60 by 33 inches backboard
Shipping Weight: 214 pounds
4 by 4 inches pole dimensions
The adjustability of the rim height: 7.5 by 10 inches
Manufacturer: Silverback
Item Weight: 203 pounds
Pros
Offers the performance of a gymnasium goal
Has an anchor bolt mounting system allowing for easy relocation
Its actuator enables easy adjustment of goals from NBA to NCAA
Backboard pad
…
Read More →